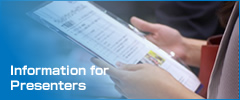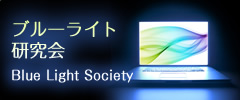 Conference Secretariat
8-5-40-513 Akasaka
Minato-ku, Tokyo 107-0052
JAPAN
+81-3-5775-2075
+81-3-5775-2076
1st International Symposium of Blue Light Society
Date
Thursday June 6, 2013 − Saturday June 8, 2013
Venue
JP TOWER HALL & CONFERENCE, Tokyo, Japan 
Official Language
English (Simultaneous translation will be provided.)
Contact Detail
Conference Secretariat


8-5-40-513 Akasaka, Minato-ku, Tokyo 107-0052 JAPAN
Phone: +81-3-5775-2075
Fax: +81-3-5775-2076
E-mail: 1isbls@blue-light.biz
■ Program
Day 1
JUN 6th (Thu)

16:00-16:20
Opening Lecture 1
Kazuo Tsubota


(Dept. of Ophthalmology, Keio University School of Medicine)

16:20-16:40
Opening Lecture 2
Charles E. Hunt


(Dept. of Electrical and Computer Engineering, University of California, Davis)

16:40-
Briefing Night & Reception

This is an occasion for lecturers to give a 5-minute about summary of their lectures, attendees of the conference as well as journalists from TV, newspapers and scientific magazines.
Day 2
JUN 7th (Fri)

09:00-10:10
Workshop 1: LED
Moderator:
Charles E. Hunt


(Dept. of Electrical and Computer Engineering, University of California, Davis)

Speaker:
Kumpei Kobayashi


(TOSHIBA MATERIALS Co., LTD.)

Cary Eskow
(Avnet Inc, USA Video Lecture)
Charles E. Hunt


(University of California, USA)

10:10-10:25
Break
10:25-11:55
Workshop 2: Photo Toxicity
Moderator:
Yoko Ozawa


(Dept. of Ophthalmology Keio University, School of Medicine)

Speaker:
David Sliney


(Consulting Medical Physicist)

Masaki Tanito


(Dept. of Ophthalmology, Shimane University Faculty of Medicine)

Motohiro Kamei


(Dept. of Ophthalmology, Graduate School of Medicine, Osaka University)

Yoko Ozawa


(Dept. of Ophthalmology Keio University, School of Medicine)

11:55-13:30
Break
13:30-15:20
Workshop 3: Circadian Rhythm
Moderator:
Masao Doi


(Kyoto University Graduate School of Pharmaceutical Sciences)

Speaker:
Mariana Figueiro
(Rensselaer Polytechnic Institute Video Lecture)
Johnni Hansen


(Danish Cancer Society Research Center)

Yasukazu Nakahata


(Nara Institute of Science and Technology)

Tsuyoshi Hirota


(University of California San Diego)

Claude Gronfier


(Inserm - French National Institute of Health and Medical Research)

15:20-15:35
Break
15:35-16:45
Workshop 4: Prevention from Blue Light Hazard
Moderator:
Takeshi Ide


(Minamiaoyama Eye Clinic)

Speaker:
Christian Cajochen
(Psychiatric Hospital of the University of Basel Video Lecture)
Ryo Kubota


(Acucela Inc.)

Masahiko Ayaki


(IUHW Mita Hospital)
Day 3
JUN 8th (Sat)

09:00-11:00
Short Course 1: Photo Toxicity
Moderator:
Susumu Ishida


(Department of Ophthalmology, Hokkaido University School of Medicine)

Speaker:
Toshihide Kurihara


(The Scripps Research Institute)

David Sliney


(Consulting Medical Physicist)

Jennifer Hunter


(Flaum Eye Institute, University of Rochester)

Russel Van Gelder
(University of Washington Video Lecture)
11:00-11:15
Break
11:15-12:15
Short Course 2: LED
Moderator:
Charles E. Hunt


(Dept. of Electrical and Computer Engineering, University of California, Davis)

Speaker:
Charles E. Hunt


(Dept. of Electrical and Computer Engineering, University of California, Davis)

Yoshio Manabe


(Panasonic Corporation, Japan)

12:15-12:30
Break
12:30-13:15
Luncheon Seminar: NIDEK CO.,LTD.
Moderator:
Kazuo Tsubota


(Dept. of Ophthalmology Keio University School of Medicine)

Speaker:
Paul S. Bernstein


(Mary Boesche Professor of Ophthalmology and Visual Sciences)

13:15-13:30
Break
13:30-15:30
Short Course 3: Circadian Rhythm
Moderator:
Hitoshi Okamura


(Kyoto University Graduate School of Pharmaceutical Sciences)

Speaker:
Wataru Nakamura


(Osaka University Graduate School of Dentistry)

Hitoshi Okamura


(Kyoto University Graduate School of Pharmaceutical Sciences)

Satchidananda Panda


(Salk Institute for Biological Studies)

Claude Gronfier


(Inserm - French National Institute of Health and Medical Research)

15:30-15:45
Break
15:45-16:45
Short Course 4: Prevention from Blue Light Hazard
Moderator:
Kazuo Tsubota


(Dept. of Ophthalmology, Keio University School of Medicine)

Speaker:
Akira Obana


(Seirei Hamamatsu General Hospital, Japan)

Josep Carreras


(Catalonia Institute for Energy Research, Spain)

16:45-16:55
Closing Remarks
Kazuo Tsubota


(Dept. of Ophthalmology Keio University School of Medicine)